KC Contractors Road Surfacing & Paving Contractors Kent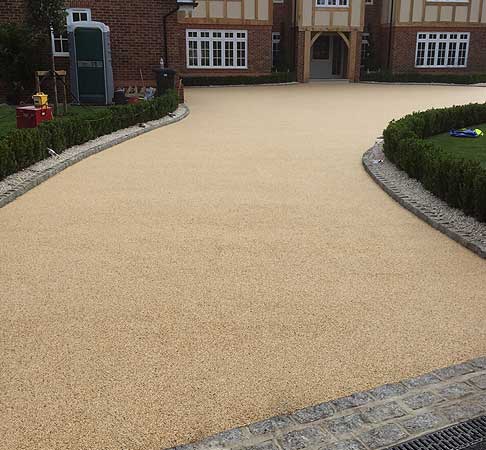 KC Contractors are experienced in providing high-quality tarmac driveways for customers across Kent, using the latest tarmacadam surfacing and block paving techniques to create stunning and durable driveways that will last for years to come. Our expertise and workmanship speak for themselves.
Road Surfacing & Paving Contractors Kent
From excavation and groundwork to simple paving or tarmac repairs, our Kent surfacing contractors can be trusted to build and repair your private roads, car parks, forecourts and driveways using the best materials and equipment.
We also specialise in Manor House Driveway Surfacingwith resin, blockpaving, tarmacadem and surface dressing are all the usual drveway srfacng options that owners of manor houses opt for and rest assured we install them to the highest standards. We also offer industrial estate surfacing across Kent
As a 5-star recommended driveway & paving company in Kent, all our work is covered by £10 million public liability insurance, in addition to being Streetworks approved.
We are driveway contractors for businesses, schools, local authorities, private road owners and residential homeowners in Kent. Our experts provide fantastic customer service and long-lasting guarantees for over 20 years across Kent and the surrounding areas. Be it a tarmac repair, road surfacing, potholes, paved or resin driveway – we're your #1 choice in Kent.
Why choose us to resurface your roads & driveways in Kent?
The road surfacing and driveways we repair or install are done by a fully trained team of skilled laborers. Every member of the team has years of experience in road surfacing, car parks, driveways, and other paving projects around Kent.
Using only the best materials, for any Tarmac, resin, and block paving, all our work conforms to British Standards and is fully guaranteed. We are one of Kent's leading surfacing and driveway companies.
As our reviews suggest, your surfacing satisfaction is our main aim and we work hard to ensure quality and reliability. We aim to give you 100% peace of mind that your tarmacadam, asphalt, resin drive or paving project will last the test of time.
Block paving is an incredibly durable and aesthetically pleasing option for driveways, pathways, and patios, offering 100% peace of mind that your project will last the test of time due to its interlocking blocks that provide a strong, solid foundation. The quality of our finish through detail and design enhances the appearance of the job undertaken.
We are proud to offer our customers the highest quality resin driveways, along with liability insurance, competitive prices, and the dedication of our skilled workforce, ensuring that we remain the preferred surfacing contractor in Kent for all your resin driveway needs. A good
With £10 million in public liability insurance, competitive prices, and the dedication of our skilled workforce, we remain the preferred surfacing contractors in Kent. Contact us today for a quote or information. If you want to arrange a no-obligation consultation for either a commercial or domestic surfacing project, then we are ready to take your call.